The tale of our Inn begins in 2001.
Steve Nelson, a burned out corporate refugee from a Manhattan corner office, came to Frisco, one village south of the Inn's location in Buxton, to begin his life on Hatteras Island and his search for a site to build the inn of which he'd long dreamed. Early in 2003, he found a one acre property with a rental home on one of the few ridges along the south shore of the Pamlico Sound, the first of three lots that comprise our present facility. A few months later, he acquired the slightly larger property directly to the east, which at that time had just the small cottage that would later become the Innkeeper's residence.
Over the winter of 2003-2004, Steve and some friends renovated and redecorated the former rental house. In spring of 2004 he opened the original incarnation of The Inn on Pamlico Sound as a 5 guest room bed & breakfast. The B&B ran for one year, what Steve now calls "his practice year". The original Inn began with a purely organic approach to marketing, meaning simply that the business had no advertising. Steve decided from the beginning that, rather than spending money to tell potential guests how good a stay would be, the Inn's resources would instead be used to make each guest's experience as good as he could possibly make it. His belief was that his guests would talk about their experience, return, and bring their friends. By the end of the first season, referrals, reviews, and repeat guests began to form the word of mouth constituency that is, aside from our website, still the Inn's primary method of attracting guests.
As the 2004 season came to an end, Steve closed the bed & breakfast to begin the first of many rounds of improvements and expansions. This initial project set the practice still followed today. All work is done by Hatteras Island residents. Nothing is bid. Trusted friends are asked to help design and budget projects, then bring them in on time and on budget. The rental house was gutted to the studs and renovated to become the Inn's West Building, with 5 guest rooms, theater, and office. The East building was constructed with 7 guest rooms and the Inn's first small commercial kitchen, and our first docks were added. The Inn on Pamlico Sound reopened for the 2005 season as a European style boutique hotel. Steve hired his first full time employee, and with a small group of friends, they cooked breakfast, cleaned rooms, made reservations, and began to set the standards that would build the reputation of the Inn.
2006 brought the birth of our restaurant. The Inn had begun to attract a cool, interesting, and eclectic clientele from across the Americas and Europe, most of whom had never been to Hatteras or the Outer Banks. They brought with them an interest in fine food. The restaurant began as a pilot to meet guest demand for fine dining. With help from a chef friend who had one year to give to the venture, the pilot was launched in May of 2006. Much to our surprise and pleasure, the restaurant was soon full to capacity, positive reviews began pouring in, and we found ourselves very much enjoying the business of fine dining.
2007 brought the beginning of unexpected new opportunity. The Inn had planned weddings and events since we started, exclusively as an accommodation for our regular guests and their families. Reviews from those events appeared in online consumer reviews, leading several major publications to positively review the Inn as an event venue. Demand for our services as an event venue and wedding destination skyrocketed, leading to the expansion of both East and West buildings during the winter of 2008-2009. Two of our smallest guest rooms were converted to office and storage, the roof of our West building raised to make room for two large luxurious rooms, our dining rooms were doubled in size, and a large area beneath our East building was enclosed for future kitchen expansion.
By 2009, the Inn was among the most positively reviewed hotels, restaurants, and event venues on the NC coast. To keep up with demand, we expanded our venue areas, built the Crystal Pavilion, added live music to our amenities, and more than tripled our kitchen space. 2009 also brought the formal launch of our offsite catering, private chef, and event planning operations, all designed to meet demand for dining and event services beyond what we are able to meet on our grounds.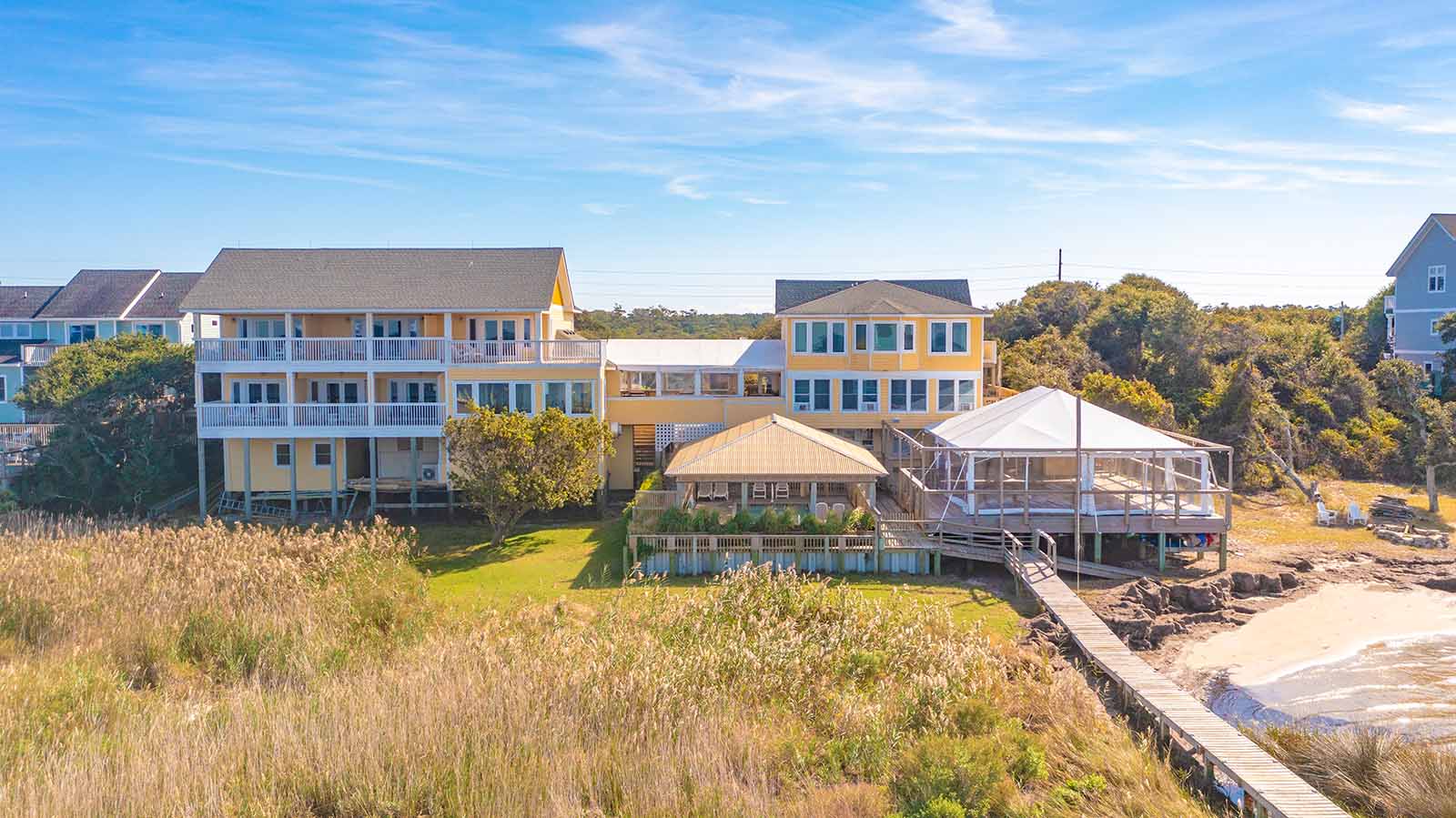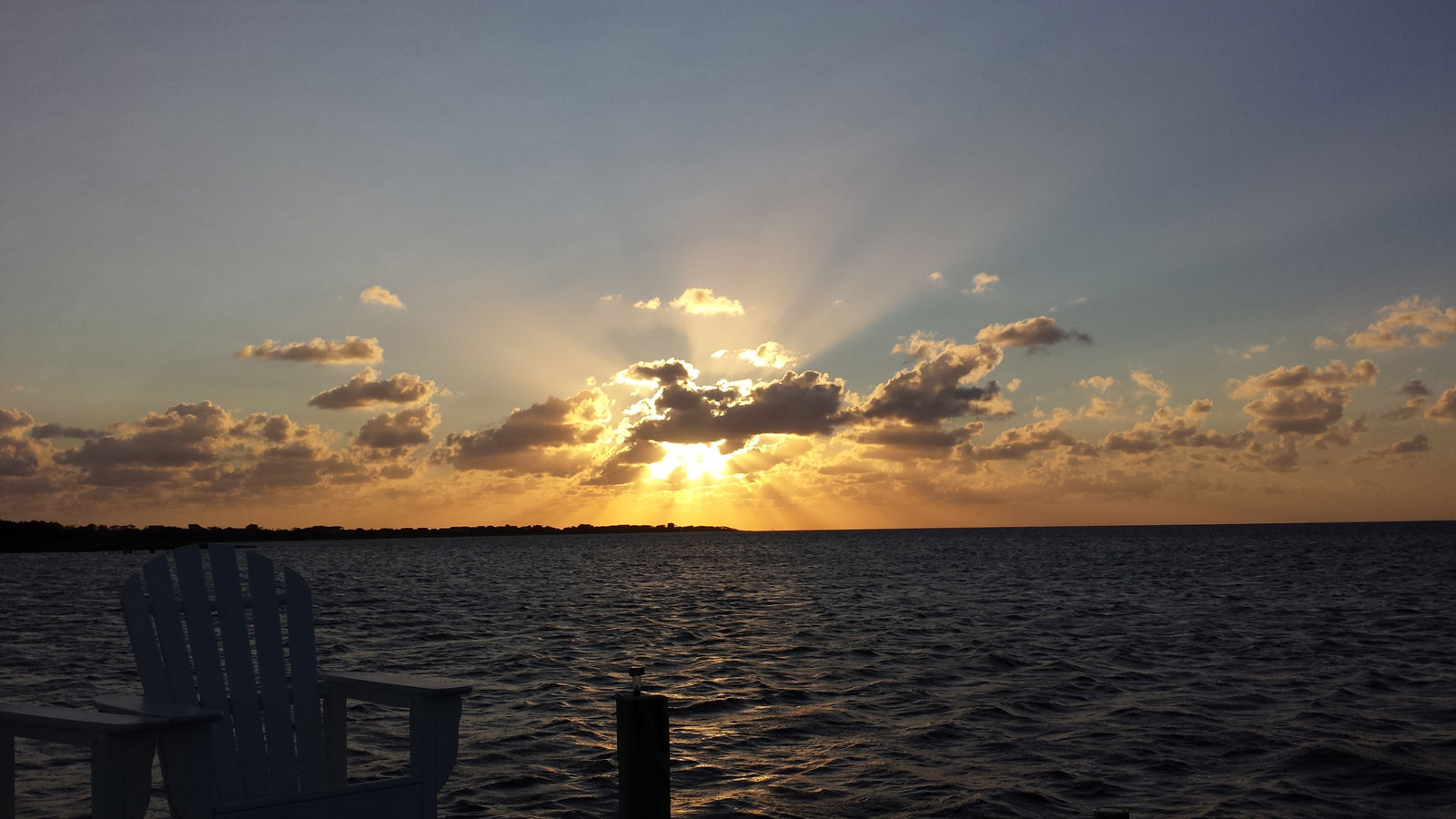 The second decade of the inn…
2010 brought the next level in our quest for ever higher standards in lodging, dining, and event excellence with the expansion of our culinary staff, doubling of kitchen and pantry space, and creation of our bar. With 2011 came the acquisition of the lot to our west, expansion of our parking lots, docks, restoration of our Sunset Point promontory, expansion of the gardens from which come our fresh spices and vegetables, and expansion of our orchard with pear, peach, apple, plum, nectarine, pear, pomegranate, cherry and fig trees with which we plan to feed our guests for years to come. 2013 brought new common area decks, the addition of our West Building waterfront large party room, blackberry, raspberry, and strawberry patches, and arbors for Concords, Scuppernongs, and Muscadine grapes.
2013 and 2014 brought the single largest change in the Inn's history. Not an addition of land, buildings, or equipment, but the beginning of the team who now manage The Inn's lodging, event, and culinary operations.  Natasha Quidley, now our President and General Manager, Melissa Anderson, Hotel Operations Manager, Meredith Harris, Events and Design Manager, and Dallas Tolson, F&B Director all joined Steve and Alicia Packer, Hotel and Guest Relations Manager (with us since 2010).  Together, they have brought us to our current top rankings in all categories, hotel, restaurant and event.
No history goes from up to higher up without a crisis or two along the way.  While hurricanes are part of life when you live on a sandbar in the Atlantic ocean, there are storms and there are STORMS.  2016 brought the fearsome force of Hurricane Matthew, which focused it's power on the southern soundside of our island community.  Matthew destroyed the entire back section of our facility, taking out bulkheads, pools, decks, and wreaking general destruction.  Fortunately, our strong management team did not make the decision to simply rebuild.  We instead spent time and effort with our valued commercial contractor and engineer to rethink the entire waterfront of our three acre facility.  That "step back. take a deep breath" led to our new pool inside our Crystal Pavilion and our large waterfront venue deck designed for all season use in combination with an optional heated tent cover and it's own service bar.
2018 brought to us the expertise and experience of Shane Turner, now Culinary Operations Manager, followed in 2021 by the creative Tanner Enloe, now Chef D'Cuisine, expanding our team of chefs to the eight professionals who now serve the dining and event guests of our top ranked culinary and event operations.  The expansion of our professional staff coincided with the national housing crisis, which hit our remote tourism based economy harder than most locals.  The management team decided if we want the best people, we need places for them to live and raise their families.  Our focus from 2020 thru 2022 has been employee housing, adding two new onsite housing units to the two already in place and investing in facilities in Avon and Hatteras Village.  We plan over the next two years to add four to six more secure places for our valued staff to the seven employee housing units currently in place, coordinated with a planned four guest room expansion of the hotel.
We can't wait to see what our third decade has in store…